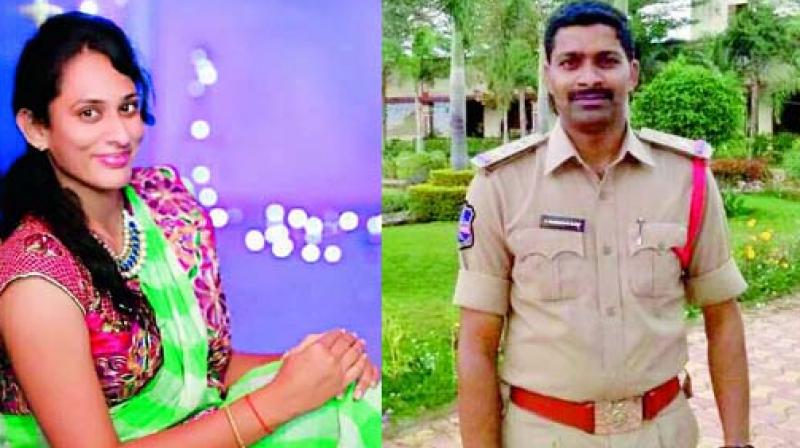 Just 10 months has passed, over shocking news of a Police Officer rank of Sub Inspector Ramakrishna Reddy who committed suicide by shooting himself in August last year in Telangana.
On Wednesday, the state was woken up to another tragedy and heartfelt incident, where another officer of same rank Prabahkar Reddy committed suicide with his service revolver, in afternoon at around 1:00 PM.
Both officials who committed suicide delivering their duties in same Police Station Kukunurupalli located in Siddipet district.
Police officials said to news report, the 32 year old young SI suicide was linked to another suicide death of a Hyderabad beautician Sirishi, on Tuesday, who she and her friend associate partner owner of R J studio in Hyderabad, Banjara Hills has approached the officer to solve problem aroused over a personal issue.
Which turned into disaster after the owner of the studio named Rajiv, man handled her during discussion with officer, resulted her to commit suicide in the studio office after she arrived to Hyderabad from Kukunurupalli Police quarters, where the officer, Rajiv and Sirisha held meeting before her death.
While this has been the official information provided by the state, over suicide death of the Prabahkar Reddy.
The young officer wife Rachana, complained that her husband cause of suicide was harassment from higher officials and she said to news report, her husband complained about harassment from ACP over money related.
And she claimed, Prabahkar Reddy who taken up the SI duties in the Kukunurupalli village PS in last august, has no reason to commit suicide over initial suspection raised by police officials linked to suicide death of Sirisha.
And adds, she suspects a foul play in her husband death by officials.
Prabahkar Reddy, native was Tanguturu, located Yadadri – Bhuvanagiri district Aleru Mandal. He worked in Malkajgiri, Sameerpet and Kaoudapalli police stations before transferred to Kukunurupalli.
Mild incidents was reported, during transferring of  Prabahkar Reddy dead body for autopsy, where angry villagers destroyed a media News vehicle and protests erupted. In no time predicting the sense of growing agitation the district police administration called large battalion of police force to take hold of law and order in the vicinity.
And at around 9:30 PM in night, Prabahkar Redddy body was transferred to district govt. hospital for autopsy.